Rotating File Cabinets (Times Two) Provide Two Sided File Storage Washington Seattle Tacoma Spokane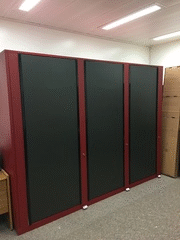 The Rotating File Cabinet is a compact storage system which rotates for fast access from either side, and gives double the depth for more multimedia storage.
Unlike ordinary lateral files, the special rotary cabinet design takes space planning to a whole new level in the Washington state area. You can save space, divide space, and place Times-2 where no ordinary lateral cabinet can go.
Rotating file cabinets are two sided revolving office cabinets that swivel around to provide double the storage in about half the space compared to traditional file cabinets. We provide rotating file cabinets to all types of businesses in Seattle, Spokane, Tacoma, Vancouver, Bellevue, Kent, Federal Way, Yakima, Kirkland, Bellingham, Auburn, and throughout the state of Washington. (view images of two sided revolving office cabinets)
Double Your Storage With The Rotating File Cabinets
Times-2 combines the advantages of both lateral and vertical cabinets into a unique rotating system that allows for greater versatility in space planning.
Why settle for lateral files, when there's Times-2? One 7-Tier Times-2 Speed File stores almost as much as three 4-Drawer Lateral Files and requires less space.
If you want to lock the cabinet, just spin it a quarter turn either way. When the foot pedal is held down, the file cabinet rotates freely.
Rotating File Cabinets Reduce Construction And Energy Costs
rotating-file-cabinets-seattle-spokane-tacoma-bellevue-everett-kent-yakima
Rotating file cabinets allow companies to save floorspace because they are so compact. They also help companies save money on construction costs and help reduce ongoing energy costs. A nationally known credit company used rotating file cabinets when consolidating numerous offices into a regional office and saved on new construction costs, as well as reducing ongoing energy costs. The revolving office cabinets also provide flexibility to store various items within the same cabinet like notebook binders, office supplies, and data media. The cabinets are also easy to expand, relocate, and lock to keep files secure.
Spinning Two Sided Office Cabinet Accessories



Times-2 Quik-Station




Quik-Panel Slatwall




Times-2 Caster Kit




Accessory Drawer




Security Drawer




Tub Drawer




Filing Drawer




Reference Shelf




Hanging Folder Frame




Hand Release or Foot Pedal




Overlay Options




Wardrobe




Pass Through
Contact Us For Rotating File Cabinets
Allied Systems Products provides design and installation services for rotating file cabinets to businesses in Seattle, Spokane, Tacoma, Vancouver, Bellevue, Kent, Federal Way, Yakima, Kirkland, Bellingham, and Auburn areas. Give us a call at (206) 292-2280 or send us a message, to speak with your local representative today.
To See More information on the Spinning Cabinet
Seattle Office
Allied Systems Products
13300 SE 30th St, Ste 102A

Bellevue, WA 98005
Telephone: (206) 292-2280
Fax: (206) 292-4820
Email: sales@alliedaak.com