Rotary Base – Best in Industry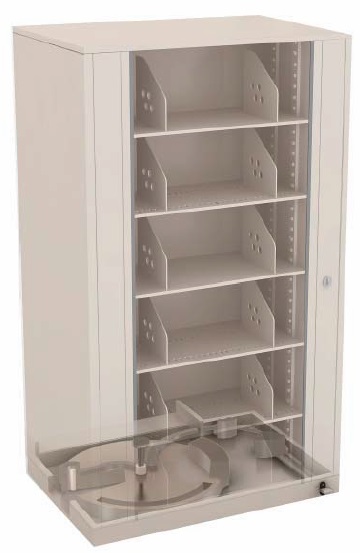 It's All About the Base
Smooth Operation
The base assemble is the foundation of rotating cabinet. Unlike some competitive units, the Times Two base is assemble and lubricated for life in the factory to ensure smooth operation and clean installation.
Built-in Safety with Positive Position Control
The Times Two can be ordered with a foot pedal or hand release. Both provide Positive Position Control, and important safety feature.
Positive Position Control ensure a controlled and positive stop every quarter turn, preventing the rotational momentum that can occur with off-brand units especially those that are free spinning push models. Release the foot pedal and unit will stop at the next quarter turn. No hump, No bump, just a controlled stop. No more having to sit there and try to find the hump like in the competitors cabinets. Release the foot petal and it stops.
Easy Shelf Configurations
The Times Two shelf can easily be moved, no screws or other hardware needed. In some competitors you have four screws that have to be removed just to move the shelf.
Whether equipped to store and secure items for school nurses, security officer's weapons, files or anything you can imagine, the Times Two Rotating Cabinet (Rotating Shelving) is the best rotary storage unit on the market.