High Density Mobile Shelving System
Allied Systems Products offers a variety of high density mobile storage systems for organization and space optimization. High density storage, alsocalled mobile storage or compact storage, maximizes square footage, develops visually appealing shelves, and eliminates overcrowding. There are a lot of different items when it comes to mobile systems, so call our
professional staff to help get the ball rolling on your next High Density Mobile System.
BENEFITS OF MOBILE SHEVING
Limited lifetime warranty
LEED certifications
Durable, resist wear and decay
Versatile system grows with your business
An economical, dependable system for any type of storage
Captures space normally lost to permanent obstacles
These systems are limitless and can handle anything regardless of size, shape, or weight. Stow file folders, books, binders, electronics, archival boxes, patient records, x-rays, specimens, vegetation, artwork, tools, uniforms, pharmaceuticals, rare artifacts, museum cabinets, office supplies, janitorial supplies, craft supplies, evidence, weapons and ammunition, athletic equipment, lumber, or aircraft parts with ease.
High density mobile shelving systems are utilized anywhere a uniquely demanding storage environment exist such as workplaces, warehouses, factories, agricultural, education, healthcare, public safety, law enforcement and corrections, military, telecommunications, electronics, financial institutions, libraries, museums, research centers, laboratories, and the government.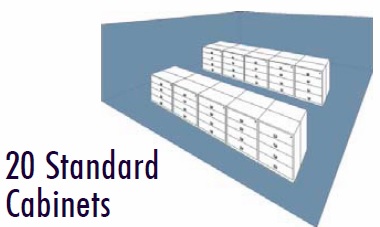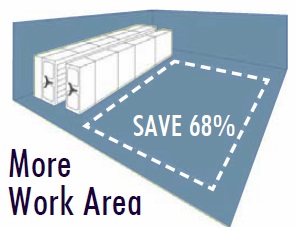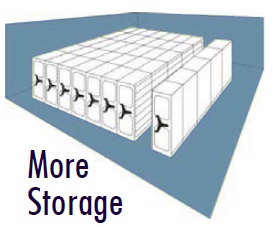 This type of mobile storage utilizes the vertical space wasted by conventional shelving and eliminates traditional fixed access aisles with one or two movable aisles. Shelving is fastened to rolling carriages that glide apart with little force on rails. The carriages are capable of holding new and pre-existing shelving, move left to right, and are either surface mounted or recessed into the floor. The deck and rail assembly provide a heavy-duty foundation that can be adjusted for carpeted, wood, concrete, or tiled floors.
SHELVING
An assortment of shelving styles is available varying in heights, depths, and widths.
4 POST SHELVING – QUIK LOK or other Types

No tools required to assemble; clean line design; 18 gauge; single or double entry; open or closed back; non-slotted or slotted shelves;
available in 29 colors. Below are all the sizes that 4 post comes in.
Custom sizes are available also.

LIBRARY

No tools required to assemble; Gusseted uprights prevent contents from sliding or lodging behind uprights; 18 or 22 gauge; open or closed back; slotted and non-slotted shelves; available in 29 colors. Library shelving comes in the same sizes as the 4 post shelving.

WIRE

Open-wire construction promotes cleanliness, provides high visibility, and circulates air to reduce moisture and dirt buildup; assembles easily with a rubber mallet; 800 lbs. weight capacity; offered in chrome, stainless steel or antimicrobial finishes; welded construction; National Sanitation Foundation approved

UTILITY SHELVING

This type of shelving maximize the weight load that can be put on each shelving. It can come with metal or wood shelves. This type of shelving is highly customizable and can adapt to many environments.
STYLES
POWERED

Carriage capacity loads of 1000 lbs. per linear ft.; electric mobile systems with programmable master control panel. Each aisle can have its own access code to secure lock certain sections down. This high density mobile shelving systems have premium aisle safety lock and mechanical safety sweep and backup systems to keep you safe and working in all environments.

STANDARD CARRIAGES – 1000 SERIES

Carriage capacity loads of 1000 lbs. per linear ft.; manual or mechanical assist; premium aisle safety lock; ADA Compliant. This system allows the most diverse shelving types to be installed safely and securely to it.

LOW PROFILE

Carriage capacity loads of 750 lbs. (in some cases 1000 lbs) per linear ft.; 4" carriage to meet ceiling height restrictions for sprinkler codes; premium aisle safety lock and mechanical safety sweep; ADA Compliant

PUSH PULL MOBILE SYSTEM

This non-mechanical system is used with smaller over units.
COLORS
The carriages and shelving comes in 29 Standard Color Choices.
End Panel Options or Chain Box Covers
To be used on the front of each row of shelving. This would be where you would see the handle to move the unit side to side. The chainbox cover is the cheapest option. End panels can be added to add a unique look to any mobile storage unit.

ACCESSORIES
Interchangeable components for high density mobile shelving to offer design freedom that adapts as your storage needs change. These accessories include:

DIVIDERS

Divider
Used in conjunction with slotted shelves and back to center stops to divide shelves into sections.
BIN

A great addition to schools, clinics, and offices for conference and training rooms, or mail sorting areas. Use bin dividers for industrial and warehousing applications for parts storage or store office supplies, binders, paper, coffee service goods, training materials, children's backpacks, etc.

BOOK SUPPORT

Snaps in quickly and holds books firmly in place

RACKS

HANGING

Securely store small or quick access items such as fabric samples, CD and videos, and pharmacy prescriptions

NEWSPAPER

Angled brackets hold up to five slotted wooden sticks for newspaper storage

WEAPON

Safely store and secure almost any size rifle, shotgun, machine gun, or handgun in addition to clips, bulk ammunition, scopes, optics, binoculars, night vision goggles, helmets, and ancillary gear

ART STOR

Single or double sided perforated panels provides a stable mounting surface for art

CABINETS

COMBINATION

The pre-configured unit combines storage and filing and includes 3 locking
drawers for hanging files and 3 open tiers for general storage

GARMENT

Contains a wardrobe opening for garments and five general storage shelves

MUSEUM

Customizable storage with compression seal to prevent dirt and insert
infiltration. There are a lot of different options here. Too many to be
listed. If you are thing Museum shelving is needed please give a call.
1-800-877-8038.

END STOR

Quick access end cap 4 post shelving.

DOORS

HINGED DOOR

Hinged doors pivot nearly flush with sides of the 4 post metal shelving to
make storage easy

RETRACTABLE

Locking doors lift up and slide completely back for a flush profile to the
4 post metal shelving it is attached to.

TAMBOUR

Locking security door rolls smoothly up and out of view into each tier of
shelving. It acts something like a garage door but on a per shelf bases.

SLIDING

Attaches to any open shelving to create secure and convenient lockable
storage. This is like a sliding glass door.

MAGAZINE

An attractive display area swings up easily for access to concealed storage
space. So you would put the most recent copy on this magazine door and put
all the past issues behind it.

ROLLOK DOORS

SHELVES

SLOTTED and NON-SLOTTED

These are the most common 4 post shelves. Slotted allows dividers to be
used with backstops or center stops.

REFERENCE

Retractable work surface allowing for immediate access to the information
needed.

SLOPED

Shelf body is slightly inclined and has a lip to capture whatever is being
stored for improved access and visibility

MEDIA

Shelf body is slightly inclined to give greater visibility to media spine
labels and organizes small items

Wood

The shelving can be made out of wood. This can lower the cost of the
project but can lower the shelving life span.

DRAWERS

STANDARD

These drawers fully extent from the shelving to File side-to-side or
front-to-back (Hanging file bars optional)

SECURITY

The drawers allow certain material to be securely and selectively from
other materials to protect personal property or sensitive documentation.

DIVIDED

Store all types of items from office supplies to forms. Drawers can be
configured into 3, 4, 5, 6, or 8 compartments with side-to-side dividers
and partitions. Unique double interlock safety allows only one drawer to
open at a time (Available with and without locks)

TEXTILE

Rolled textile storage. Comes with 3 rods and brackets. (Extra rods can be
purchased separately)

RAILS

BARRIER FREE

Concave carriage wheel that matches the convex curve of the barrier-free
rail to ensure smooth operation and allows unimpeded aisle access for carts
or wheelchairs.

SINGLE & DUAL ANTI-TIP

For seismic mobile storage applications not allowing the carriage or
shelving/other items above tip over.

WEDGE PLATE

For seismic applications to conform to building codes. This can be used in
conjunction with single or dual anti-tip rails

DECK PLATE

Used where a deck is being installed. Levels deck to rail. This can be used
in conjunction with single or dual anti-tip rails

RAMPS

STANDARD

4, 12" Stainless or galvanized. Usually used where there is a deck built
level with the rail and this ramp is used to transition in front of the
mobile shelving system from the floor to the deck.

TWIN

3, 4, 6" Stainless or galvanized; for mobile shelving installations without
a deck. It still allows a transition from the top of the rail to the floor.
This is not used that match because everywhere there is a rail you would
need these ramps on both sides.

Managing your storage footprint is essential and ensures that there is
enough room to meet demand and enables facilities to reduce construction
costs or delays the need for expansion. Whether your project involves
the design of a new space, expansion, or consolidation, Allied Systems Products
will provide you with creative practical solutions for efficient use of
space. Our staff works with architects, designers, and clients to assess,
recommend, and implement space-saving mobile storage.

Have a question? Call (800) 877-8038 or email us at sales@alliedaak.com.