Rotating Shelving vs Lektriever Rotomat Systems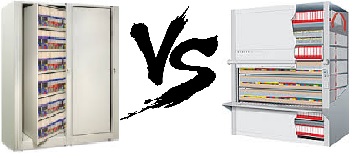 Why rotating shelving is better than Kardex Remstar/Hanel/Vidmar Lista electric lektriever rotomat lifts storage?
There are alternatives to carousel software controlled automated media storage and vertical carousel filing cabinet or more formerly known as lektriever systems or Rotomat. If you are considering buying a lektriever system manufactured by Kardex Remstar Lifts, Hanel, Vidmar Lista, or other and the system is only one floor we offer an alternative. Rotating shelving is a simple locking solution that can store everything the lektriever can at 1/2 the cost and in just about the same amount of space. Both systems can handle top tab filing, end tab filing, videos, dvds and a large verity of items.
Rotating Shelving
lektriever
Space Saving
Locking
No Electricity Need
Can be used during a power outage?
No Maintenance Contract
It can store:
End Tab Files
Top Tab Files
Videos
Dvds
Made in the USA
Rotating Shelving
lektriever
Cost
$$
$$$$
Installation
$
$$
Electricity
$
Maintenance Contract
$
Battery Backup
$
The Bad about Lektrievers
Electric vertical carousel filing cabinet can be very expensive, about 40% to 50% more than a rotating cabinet when dealing with filing folders. That number does not even include included electricity run the equipment, required maintenance to keep working correctly, and software update requirement. Then there is the power outage issue requiring backup systems which again is an added cost. And last is lektrievers are not made in the USA.
The Good about Lektrievers
Systems like the Kardex Remstar allows all filing to be done at waist high or sitting height. No bending over or reaching. You only have to push a button to move the unit.
The Good about Rotating Cabinets
Rotary cabinets are fully locking units that can store a lot of different items in a small amount of space. There is no maintenance or electricity needed for this shelving unit, and with a light push the rotary units spins to file on both sides of the unit. For a locking space saving system the price of the cabinet is reasonable, at half the cost of the lektriever systems. These spinning cabinet are made in the USA.
The Bad about Rotating Shelving
Filing is not at waist high, and manual pushing is needed to spin the cabinet.
Actually Comparison
In the follow comparison a customer wanted to for end tab folders. They had seen a electrical carousel rotomat systems before but really didn't know any other comparable systems. So we did the following side to side comparison.
Hanel Rotomat vs Rotating Shelving Comparison
Hanel Rotomat storage system 400/115/260/280
Times Two Cabinet – 8 Tier – One Starter and Two Add-on's
Carriers
14 – Storing 1,245 Linear filing inches of legal sized end tab folders.

Each carrier has 5 adjustable support plates and 4 fixed dividers
1,440 Linear filing inches of legal sized end tab folders.

Includes 2 dividers per shelf
Measurements
Height – 100.80"

Width – 102.36"

Depth – 45.47" Worktable – 11.81"

Operator access height – 29.5"
Height – 92.5

Width – 121.5"

Depth – 31"
Electric & Motor
120 outlet

25% Load Imbalance drive capacity

Single drive motor
No Electricity Needed
Standard Controller (controller, alphanumeric keypad, TFT
touchscreen)
No controls needed – there are optional locks options. One option is keyless entry.
Safety Features:
Threshold switches – (mechanical safety switches, top and bottom of
access)

Emergency stop button – (high visibility, immediately halts unit
operation)

Safety Bypass – (redundant system permits safe operation in the
event of failure)

Chain lock device

Safety bars at top and bottom of access—creates a safety gap (no pinch point) and brings the unit to an immediate stop.
Manual override in case of control failure
Not needed with Times Two. Why the base is the best in the industry.
Front lighting
LED energy efficient (mounts on face of unit, above access
opening)
Not needed with the Times Two
Security
Fully enclosed cabinet six-sided cabinet (full top and bottom)

All access doors have a key lock for security
Times Two is fully key locking