KEYLESS ENTRY FOR ROTATING CABINETS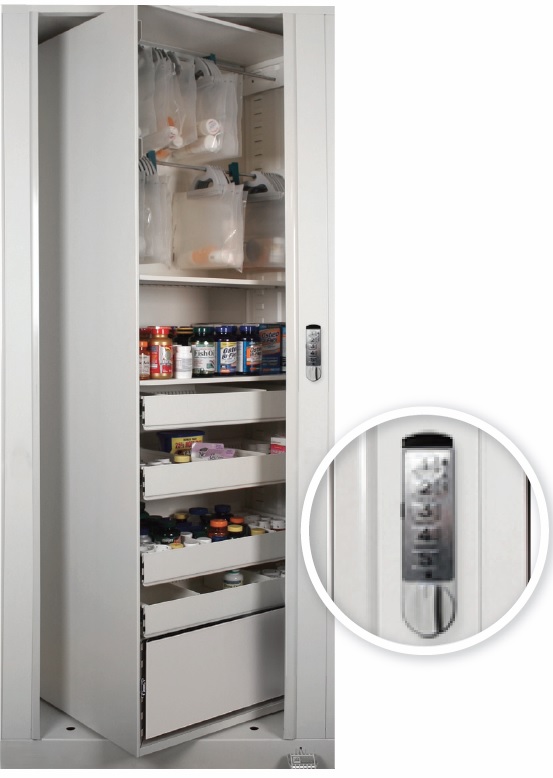 Convenient keyless entry for rotating cabinets for multiple users at your company.
Simplify access and security to stored items with a pass code instead of a key. Available in Black or Chrome, the Electronic Keypad Lock replaces the key lock on any Times-2 Post.

Field installs and retrofits to units in the field
Mounts vertically on Times-2 posts
Infrared Operation
5 Year Lithium Battery
Separate User Codes to key banks of units differently
Built in security with "Failed entry lockout" after 5 incorrect attempts
Master & Supervisory Codes for varying or universal levels of access.
Low-voltage keypad fits all Times-2 Cabinets as an alternate to the standard lock.
An illuminated keypad for low light settings.
Saves time for quick access where units must be locked after each entry.
Stores and secures pharmaceuticals, confidential files, small electronics, valuables, confiscated evidence and weapons.
When security and convenience are foremost in mind for storage, Times 2 rotating cabinet Keypad Security provide quick access with the touch of a finger.

SPECIFICATIONS
One keypad per unit is required
One 3-prong 6 foot wall cord with 120 VAC transformer for 12 V operation
UL Listed transformer
30 minute battery backup for power failures to lock cabinets